Langdale Ferry Terminal: 50th Anniversary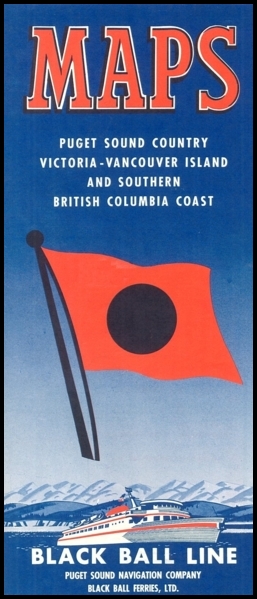 An early Black Ball Ferries brochure.

(From the Gary Little collection)

SECHELT, BC — DECEMBER 6, 2007 — Local real estate agent Gary Little has written the following article relating to the history of the Langdale ferry terminal.

Fifty years ago, in 1957, Black Ball Ferries opened the Langdale ferry terminal on the flats next to Langdale Creek near Hopkins Landing. The terminal was built to handle Black Ball's hugely popular car ferry service between Horseshoe Bay and the Sunshine Coast which had started up six years earlier in 1951.

Before the Langdale terminal was built, the car ferries loaded and unloaded at the wharf at Gibsons Landing. In the beginning there was only one ferry (the M.V. Quillayute), it could handle only 48 cars, and it made only five round trips daily, so congestion at the Landing was manageable. However, the service became very popular very quickly: in the first 5 1/2 months, Black Ball reported handling 66,593 passengers, 10,000 cars, and 3,554 trucks. To meet demand, Black Ball put a larger ferry on the run in the summer of 1952 (the M.V. Bainbridge) and later added more sailings. In 1956, a second ferry was added (the S.S. Smokwa) which allowed for additional summertime sailings on the route.

As Black Ball service expanded, it became very clear that the Landing had to be abandoned in favour of a terminal which was built on level ground, could handle more traffic, and could provide more parking for outbound foot passengers. Black Ball also wanted to reduce the duration of the 70 minute ferry trip, if possible. The solution was to move the terminal to Langdale.

Although there were certainly compelling reasons for a move to Langdale, the decision stirred up plenty of controversy. Many locals thought it would turn the Landing into a ghost town because, for the first time in decades, there would be no regular ship service to the Gibsons wharf. (For the first half of the 20th century, Union Steamships had made regular stops at Gibsons.) The writer of a letter to the editor of the Coast News warned "...the severance of ferry service of any kind to Gibsons may bring about a diversion of the Provincial Highway which may miss Gibsons altogether..." and Tony Gargrave, the local MLA, blustered "...this will create many hardships for the people who live in Gibsons..."

Despite these concerns, Black Ball went ahead with the Langdale terminal and it officially opened on June 19, 1957. As it turned out, it would be four decades before the feared highway by-pass was built, so the ferry traffic continued to pass through the Landing, and local merchants seemed to survive quite well.

The shears used to cut the ribbon at the Langdale terminal opening ceremonies in 1957.
(Courtesy of Sunshine Coast Museum & Archives)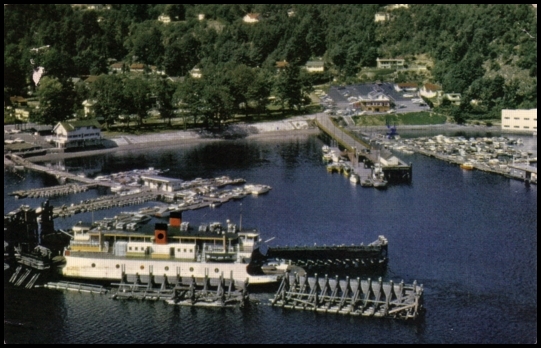 S.S. Smokwa: the first ferry to pull in to Langdale in 1957. Shown here at Horseshoe Bay.

(From the Gary Little collection)

The opening ceremony was an important community event. A colourful ribbon was hung across the loading ramp and, upon arrival of the Smokwa from Horseshoe Bay (a crossing which now took only 60 minutes), the ribbon was cut by Mrs. Don Clarke, a granddaughter of the pioneering Langdale family. The massive shears she used for this are on display at the Sunshine Coast Museum & Archives in Gibsons. Dignitaries at the ceremony included Black Ball executives Capt. Alex Peabody and Col. George Paulin, and Evan Jones, Deputy Minister of Highways.

In retrospect, it was a prescient decision to create a ferry terminal at Langdale. Even though ferry capacity has continued to increase in the past 50 years, Langdale has been able to keep up by adding a second berth, expanding the waiting area, and providing plenty of parking. This would have been impossible at the Landing.


- * -

Gary Little is a realtor® and licensed real estate trading services representative in the offices of Royal LePage Sussex in Sechelt, British Columbia, Canada. He is a former senior software marketing manager, having previously worked in Silicon Valley for almost 20 years at the worldwide headquarters of Apple Inc. and Sun Microsystems, Inc. He is well known for his interactive real estate map of the Sunshine Coast (map.garylittle.ca).

—30—

CONTACT INFORMATION

Gary Little, realtor®
Royal LePage Sussex
5485 Wharf Ave., P.O. Box 65
Sechelt, BC V0N 3A0
Cell: 604-741-5347
Office: 604-885-0299
Fax: 604-885-0298
gary@garylittle.ca
www.garylittle.ca


This news release is located online at: http://www.GaryLittle.ca/history/langdale.html