George Vancouver 1757-2007: 250th Birth Anniversary
Survey of the Southwest Coast of BC: June 1792

George Vancouver

1757-1798

In June of 1792, with his flagship sloop of war Discovery and armed tender Chatham anchored securely in Birch Bay near Point Roberts, 34-year-old Captain George Vancouver led two small longboats, a 25 ft. pinnace and a 22 ft. launch, on a pioneering 11-day hydrographic survey of Burrard Inlet, Howe Sound, the Sunshine Coast, and Jervis Inlet. His was only the second European expedition to the area; a small Spanish schooner, the Santa Saturnina, commanded by José María Narváez was the first to enter the Strait of Georgia a year earlier. Another Spanish expedition, led by Dionisio Alcalá Galiano and Cayetano Valdés, would arrive in the ships Sutil and Mexicana at Birch Bay only three days after Vancouver's arrival.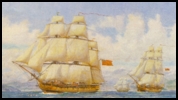 HMS Discovery & HMS Chatham

Vancouver was accompanied by Lieutenant Peter Puget and a small crew on this over 500 km survey of the southwest coast of British Columbia. They gathered enough data to create the first detailed chart of the area (published in 1798) and recorded some of the earliest observations of the native peoples, flora, fauna, and geology. Today, this area is home to 2.5 million people clustered around the major metropolis named for him in 1886.

Vancouver's complete survey from California to Alaska — conducted in the summers of 1792, 1793, and 1794 — is often regarded as the most arduous ever undertaken by any mariner. Nevertheless, the charts he published have been widely acclaimed for their detail and accuracy, and were used by seamen well into the 19th century.

The map below shows the various places where Vancouver camped for the evening while conducting his survey of southwest British Columbia. It has been created to honour the 250th anniversary of the birth of Vancouver on June 22, 1757 in King's Lynn, Norfolk, England.

Also see George Vancouver Visits the Sunshine Coast: 1792 by Gary Little.

Descriptions in the map below are from

A Voyage of Discovery to the North Pacific Ocean, and Round the World, Vol. I

by George Vancouver (London: Printed for G.G. and J. Robinson and J. Edwards, 1798). To view an online version of the book, go to

Open Library

.

The dates used here are the same as those mentioned in Vancouver's book. Because there was no international date line at the time, Vancouver's dates are actually one day ahead of the corresponding dates on the calendar we use today.